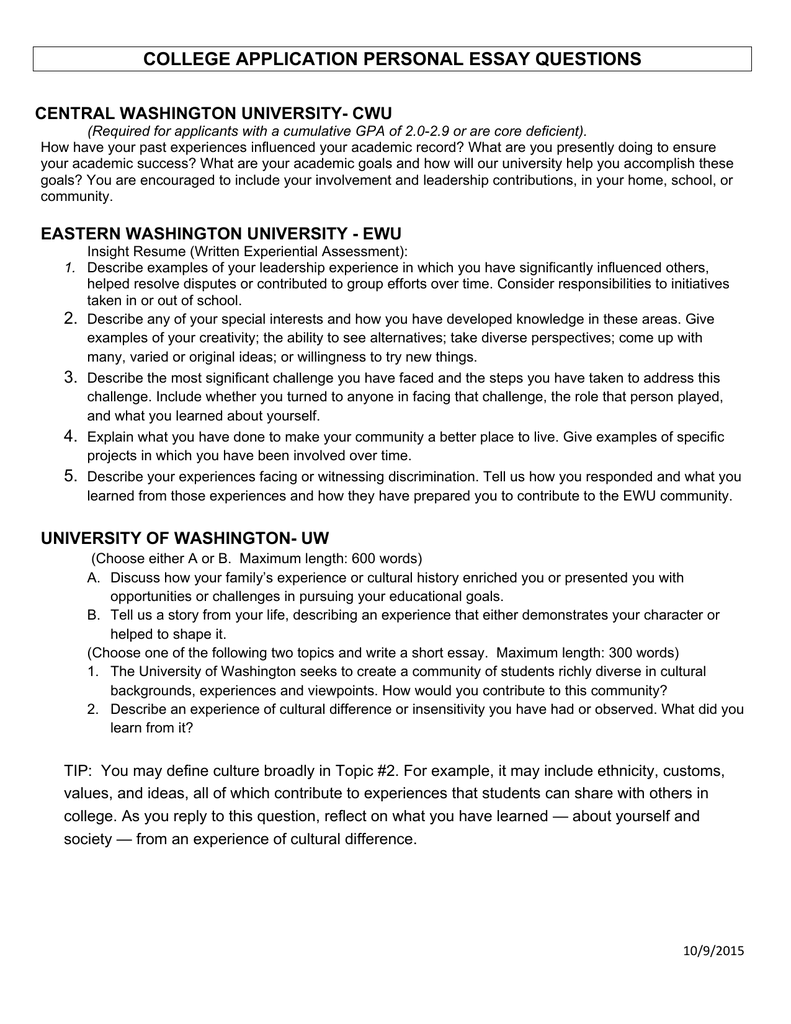 College application essay questions examples
RUBRIC FOR GRADUATE RESEARCH PAPER
My freshman year I took a world history class and my love for history grew exponentially. To me, history is like a great novel, and it is especially fascinating because it took place in my own world. But the best dimension that language brought to my life is interpersonal connection. When I speak with people in their native language, I find I can connect with them on a more intimate level.
I want to study foreign language and linguistics in college because, in short, it is something that I know I will use and develop for the rest of my life. I will never stop traveling, so attaining fluency in foreign languages will only benefit me. In the future, I hope to use these skills as the foundation of my work, whether it is in international business, foreign diplomacy, or translation.
Today, I still have the travel bug, and now, it seems, I am addicted to language too. This essay uses the Montage structure and uses two things—travel and language—as the thematic threads to tie things together. Some of the core values this author shows not tells! This essay is also a Type B essay in that it discusses the qualities that he believes will serve him in his future career.
They covered the precious mahogany coffin with a brown amalgam of rocks, decomposed organisms, and weeds. It was my turn to take the shovel, but I felt too ashamed to dutifully send her off when I had not properly said goodbye. I refused to throw dirt on her. I refused to let go of my grandmother, to accept a death I had not seen coming, to believe that an illness could not only interrupt, but steal a beloved life.
When my parents finally revealed to me that my grandmother had been battling liver cancer, I was twelve and I was angry--mostly with myself. They had wanted to protect me--only six years old at the time--from the complex and morose concept of death. Hurt that my parents had deceived me and resentful of my own oblivion, I committed myself to preventing such blindness from resurfacing.
I became desperately devoted to my education because I saw knowledge as the key to freeing myself from the chains of ignorance. While learning about cancer in school I promised myself that I would memorize every fact and absorb every detail in textbooks and online medical journals. And as I began to consider my future, I realized that what I learned in school would allow me to silence that which had silenced my grandmother. However, I was focused not with learning itself, but with good grades and high test scores.
I started to believe that academic perfection would be the only way to redeem myself in her eyes--to make up for what I had not done as a granddaughter. However, a simple walk on a hiking trail behind my house made me open my own eyes to the truth. Over the years, everything--even honoring my grandmother--had become second to school and grades.
As my shoes humbly tapped against the Earth, the towering trees blackened by the forest fire a few years ago, the faintly colorful pebbles embedded in the sidewalk, and the wispy white clouds hanging in the sky reminded me of my small though nonetheless significant part in a larger whole that is humankind and this Earth. Before I could resolve my guilt, I had to broaden my perspective of the world as well as my responsibilities to my fellow humans.
Volunteering at a cancer treatment center has helped me discover my path. When I see patients trapped in not only the hospital but also a moment in time by their diseases, I talk to them. For six hours a day, three times a week, Ivana is surrounded by IV stands, empty walls, and busy nurses that quietly yet constantly remind her of her breast cancer.
I need only to smile and say hello to see her brighten up as life returns to her face. Upon our first meeting, she opened up about her two sons, her hometown, and her knitting group--no mention of her disease. Without even standing up, the three of us—Ivana, me, and my grandmother--had taken a walk together.
While I physically treat their cancer, I want to lend patients emotional support and mental strength to escape the interruption and continue living. For over two years, my final class of the day has been nontraditional. No notes, no tests, no official assignments. Just a twenty-three minute lecture every Monday through Thursday, which I watched from my couch.
Professor Jon Stewart would lecture his class about the news of the day, picking apart the absurdities of current events. The Daily Show inspired me to explore the methods behind the madness of the world Stewart satirized. I also began to tie in knowledge I learned in school. Clearly, The Daily Show has a political slant.
I wrote a psychology paper analyzing the polarizing effects of the media and how confirmation bias leads already opinionated viewers to ossify their beliefs. It was there that two friends started arguing over the Baltimore riots.
One argued that the anti-police rhetoric of the protest was appalling; the other countered by decrying the clear presence of race discrimination still in the country. Both had their biases: the friend who argued on behalf of the police was the son of a police officer, while my friend who defended the protests personally knew people protesting in Baltimore. However, I began to wonder: was I excusing myself from the responsibility of taking a position on key issues?
In biology, for example, we studied the debates over evolution and climate change. Is it my role, as an informed student, to advocate both sides of the debate, despite one side being overwhelmingly supported by scientific evidence? I am eager to delve into an intellectual environment that challenges me to decide when to be objective and when to embrace my bias and argue for my own beliefs.
Since childhood, I have been an obsessive builder and problem solver. When I was 6, I spent two months digging a hole in my backyard, ruining the grass lawn, determined to make a giant koi pond after watching a show on HGTV. After watching Castaway when I was 7, I started a fire in my backyard--to my mother's horror--using bark and kindling like Tom Hanks did. I neglected chores and spent nights locked in my room drawing pictures and diagrams or learning rubik's cube algorithms while my mother yelled at me through the door to go to sleep.
I've always been compulsive about the things I set my mind to. The satisfaction of solving problems and executing my visions is all-consuming. But my obsessive personality has helped me solve other problems, too. When I was 8, I taught myself how to pick locks. So I didn't eat at school for two weeks and saved up enough lunch money to buy a lockpicking set from Home Depot.
After I wiggled the tension wrench into the keyhole and twisted it counterclockwise, I began manipulating the tumblers in the keyhole with the pick until I heard the satisfying click of the lock and entered the room. Devouring his stash of Lemonheads was awesome, but not as gratifying as finally getting inside his room. As the projects I tackled got bigger, I had to be more resourceful. One day in history class after reading about early American inventions, I decided to learn how to use a Spinning Jenny.
For weeks, I brushed my two cats every day until I had gathered enough fur. I washed and soaked it, carrded it with paddle brushes to align the fibers, and then spun it into yarn, which I then used to crochet a clutch purse for my grandmother on mother's day. She still uses it to this day. In high school, my obsessive nature found a new outlet in art. Being a perfectionist, I often tore up my work in frustration at the slightest hint of imperfection. As a result, I was slowly falling behind in my art class, so I had to seek out alternate solutions to actualize the ideas I had in my head.
Often times that meant using mixed media or experimenting with unconventional materials like newspaper or cardboard. Eventually I went on to win several awards, showcased my art in numerous galleries and magazines, and became President of National Art Honors Society. After high school I began to work on more difficult projects and I channeled my creativity into a different form of art - programming.
I'm writing a program in Matlab that can measure visual acuity and determine what prescription glasses someone would need. I ultimately plan to turn this into a smartphone app to be released to the general public. The fact is that computer coding is in many ways similar to the talents and hobbies I enjoyed as a child--they all require finding creative ways to solve problems. While my motivation to solve these problems might have been a childlike sense of satisfaction in creating new things, I have developed a new and profound sense of purpose and desire to put my problem solving skills to better our world.
We paused and listened, confused by sounds we had only ever heard on the news or in movies. My mother rushed out of the house and ordered us inside. The Arab Spring had come to Bahrain. I learned to be alert to the rancid smell of tear gas. Its stench would waft through the air before it invaded my eyes, urging me inside before they started to sting.
Newspaper front pages constantly showed images of bloodied clashes, made worse by Molotov cocktails. Martial Law was implemented; roaming tanks became a common sight. Bahrain, known for its palm trees and pearls, was waking up from a slumber. The only home I had known was now a place where I learned to fear.
September — Two and a half years after the uprisings, the events were still not a distant memory. I decided the answer to fear was understanding. I began to analyze the events and actions that led to the upheaval of the Arab Springs. In my country, religious and political tensions were brought to light as Shias, who felt underrepresented and neglected within the government, challenged the Sunnis, who were thought to be favored for positions of power.
I wanted equality and social justice; I did not want the violence to escalate any further and for my country to descend into the nightmare that is Libya and Syria. September — Pursuing understanding helped allay my fears, but I also wanted to contribute to Bahrain in a positive way. I participated in student government as a student representative and later as President, became a member of Model United Nations MUN , and was elected President of the Heritage Club, a charity-focused club supporting refugees and the poor.
As an MUN delegate, I saw global problems from perspectives other than my own and used my insight to push for compromise. I debated human rights violations in the Israeli-Palestinian conflict from an Israeli perspective, argued whether Syrian refugees should be allowed entry into neighboring European countries, and then created resolutions for each problem. In the Heritage Club, I raised funds and ran food drives so that my team could provide support for less fortunate Bahrainis.
We regularly distributed boxed lunches to migrant workers, bags of rice to refugees and air conditioners to the poor. Both Shia and Sunni candidates are selected, helping to diversify the future leadership of my country. I was shortlisted to attend the training during that summer. But as I learned to apply different types of leadership styles to real-life situations and honed my communication skills to lead my team, I began to see what my country was missing: harmony based on trust.
Bringing people together from different backgrounds and successfully completing goals—any goal—builds trust. And trust is the first step to lasting peace. October — I have only begun to understand my people and my history, but I no longer live in fear. Instead, I have found purpose. I plan to study political science and economics to find answers for the issues that remain unresolved in my country. Bahrain can be known for something more than pearl diving, palm trees, and the Arab Spring; it can be known for the understanding of its people, including me.
My story begins at about the age of two, when I first learned what a maze was. For most people, solving mazes is a childish phase, but I enjoyed artistically designing them. Eventually my creations jumped from their two dimensional confinement, requiring the solver to dive through holes to the other side, or fold part of the paper over, then right back again.
At around the age of eight, I invented a way for mazes to carry binary-encoded messages, with left turns and right turns representing 0s and 1s. This evolved into a base-3 maze on the surface of a tetrahedron, with crossing an edge representing a 2. For me, a blank piece of paper represented the freedom to explore new dimensions, pushing the boundaries of traditional maze making. I found a similar freedom in mathematics. Here's what I wrote when I was The object of puzzles like these was to solve for every letter, assuming they each represented a unique positive integer, and that both sides of each equation are positive.
These are not typical assumptions for practical mathematics, and I didn't even need 26 equations. Upon formally learning algebra, I was dismayed that "proper math" operated under a different set of assumptions, that two variables can be equal, or be non-integers, and that you always need as many equations as variables. Yet looking back, I now see that mathematics was so inspirational because there really is no "proper" way, no convention to hold me from discovering a completely original method of thought.
First-year essay prompts. Common App has announced the essay prompts. Below is the full set of Common App essay prompts for Some students have a background, identity, interest, or talent that is so meaningful they believe their application would be incomplete without it.
If this sounds like you, then please share your story. The lessons we take from obstacles we encounter can be fundamental to later success. Recount a time when you faced a challenge, setback, or failure. How did it affect you, and what did you learn from the experience? Reflect on a time when you questioned or challenged a belief or idea.
What prompted your thinking?
Sorry, does heinemann level up maths homework book opinion